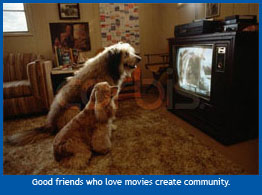 Being able to talk about movies with someone--to share the giddy high excitement you feel--is enough for a friendship.
--Pauline Kael


Movies help us relate to and empathize with other people, both our fellow viewers and movie characters. In today's fast-paced, fractured postmodern world, we're experiencing a renewed sense of and need for communal connections. Because films often serve as a common language, they provide a shortcut to communication, the foundation of community. This renewed sense of community can extend to and be strengthened by the excitement of watching movies together and talking about them. In a way, the observation by Pauline Kael (above), considered one of cinema's greatest film critics, was the inspiration for this book. For, even though, I had, since 1996, organized and facilitated numerous movie clubs, it wasn't until I read this quote that The Movie Lovers' Club began to take shape.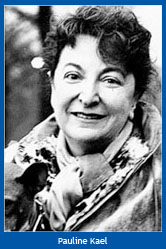 Websites are (or should be) fluid entities, and as such, they are in continuous development. Still in its embryonic stages, themovieloversclub.com will eventually include regular commentaries about theatrical releases and DVDs; dispatches from film festivals (Toronto International, Sundance, Telluride, San Francisco International, Cannes, Tribeca, Palm Springs, and others); a bi-weekly Movie Lovers' Club Journal (or blog); tips for improving your own movie club; a free online Movie Club and Conversation page; biographical information about, and interviews with, filmmakers and the unsung heroes who support festivals, movie houses, and other film events.

My personal interests (which, of course, the site will reflect) center on World Cinema, Documentaries, and Independent Films, although I may offer the occasional psycho/social/mythic analysis of a Hollywood blockbuster. In World Cinema, my special interest lies in Latin American (especially Argentine and Brazilian) and Middle Eastern (especially Iranian) Cinemas, and extends to European (especially Spanish/French/British), Pan-Asian (especially South Korean, Japanese, and Australian), and African Cinemas.

Additionally, to round out the sensory experience of watching movies, I will, from time to time, provide suggestions for international menus, recipes, and/or restaurants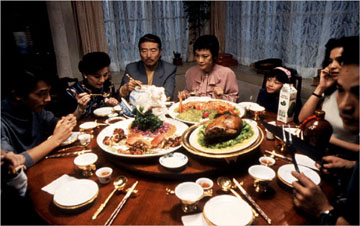 (in the Bay Area as well as those I discover during my travels) that will enhance your community viewing and dining experience. I once owned a restaurant in Berkeley and was, for a brief time, a Personal Chef in Los Angeles. Food and movies, movies and food: an ecstatic coupling.

(For a delectable take on the theme of food in movies, see: "Eat Drink Make Movie: Hollywood's Next Course" by Steve Chagollan in NYT 7/9/06)
Eat Drink Man Woman, Ang Lee, 1994 [image © Samuel Goldwyn Company]
Home | About: Site Philosophy | About: Cathleen | About: The Book | Reviews: Current | Reviews: Archive
Purchase the book! | Festival Dispatches | The Movie Lovers' Club | Links | Contact

All text on this website copyright © 2006 Cathleen Rountree. All images and graphics copyright their respective owners, unless otherwise noted. Design by Jay Wertzler.