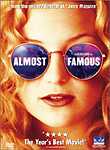 Almost Famous (2000)
dir. Cameron Crowe
starring: Billy Crudup, Frances McDormand
genre: Drama
awards: Academy Award Winner
There are few people who actually know at a young age that they want to be writers -- let alone know the subject matter about which they wish to write. By the age of fifteen, however, a precocious Cameron Crowe knew both. In Almost Famous, his tender tribute to the rock scene of the early 1970's, Crowe (who wrote and directed his own screenplay) relates an autobiographical tale of his coming-of-age in the midst of sex, drugs, and rock and roll. As the movie opens we see Crowe's alter ego, William Miller (Patrick Fugit), as a fifteen-year-old nerd, who has advanced easily through high school with the protective tutelage of his English college professor mother, Elaine Miller (Frances McDormand), an eccentric woman who quotes Goethe and, even as she drives the sweetly innocent William to rock concerts, somewhat hysterically pleads with him, "Don't take drugs!"
Although 1973 was post-1960s idealism, it was still pre-late-seventies punk nihilism. With a desire to create himself as a teenage music journalist, William begins writing music reviews and sends them out to various rock magazines. He is befriended by an actual 70's character, Lester Bangs (played by a wily Philip Seymour Hoffman), the brilliant, but cynical and sadly isolated music critic. "Call me anytime," he says, "I'm uncool, I'm always home." But he mentors William and essentially gives him the break that leads to Rolling Stone magazine sending this schoolboy on the road with the fictional band Sweetwater (in reality it was the Allman Brothers) and to William/Cameron's remarkable entry into the corrupting, decadently excessive world of rock and roll and -- through responsibility, heart and a genuine love for the music -- his ultimate triumph.
The road tour with Sweetwater in 1973 contributes to William missing much of his senior year and even his graduation, at which, when "William Miller" is called, his mother claps loudly, if a bit forlornly. But what William learns during this rock and roll circus is a confident faith in human decency, not the least, his own. He loses his virginity to three groupies in a Tennessee hotel room, he loses his heart to another irresistible groupie, Penny Lane (Kate Hudson), who, in turn, has lost her heart to a well-meaning, but amoral (and married) lead guitarist, Russell (Billy Crudup). William's heart may have been broken, but his sense of purpose and a life direction have been firmly established.
Part of what makes Almost Famous so enjoyable is that now, nearly twenty years after the events depicted in the film took place, we know where Cameron Crowe's writing life has taken him. He is a glowing and enthusiastic illustration of how devotion to an art form -- in this case, writing -- can lead to personal and professional fulfillment. And, for Crowe, even an Academy Award for Best Screenplay. The moral of the story is: do what you love and that love is its own reward.