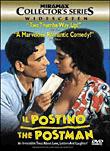 Il Postino (1995)
dir. Michael Radford
starring: Philippe Noiret, Massimo Troisi
genre: Drama, Foreign, Romance
awards: 1996 Academy Award: Best Music Score
"What is a metaphor?" Mario, the eponymous postman of Il Postino, asks the visiting poet and political activist Pablo Neruda. Thus begins an unlikely friendship between the humble Mario and the worldly Neruda, who, in 1952, has been exiled from his beloved Chile and granted asylum by the Italian government in the diminutive but beautiful village of Isla Negra.
We see Mario living with his stoic fisherman father in a bleak shack, resigned to his uneventful and colorless life. But when he is hired to bicycle to a mysterious poet's remote hilltop home to deliver what appears to be primarily love letters from adoring women, all this changes. As the shy postman becomes bolder he engages the poet with his guileless, self-deprecating charms. Mario wants to know what poetry is and why women seem so drawn to poets -- at least to Neruda -- and possibly how he himself might become a poet because, "I could make women fall for me."
And when Mario first lays eyes on the beauteous Beatrice, the local tavern maid, poetry truly comes alive for him. He implores Neruda to write a poem for him in her honor. But Neruda engenders Mario to "try and walk slowly along the shore as far as the bay, and look around you," and vows that the metaphors most certainly will come to him. The film is saying, to be a poet is to spend hours in solitude, staring into space, thinking and observing all that encompasses your senses, seeing comparisons, making connections, personifying nature and inanimate objects.
In a touching scene between the two men at the beach, Neruda recites his new poem about the sea hammering out its name against the shore and rocks. Mario says that the poem's rhythm almost made him seasick, "like a boat tossing around on your words." Neruda is pleased with the analogy and tells him that he has invented a metaphor. Mario modestly tells him that it "doesn't count," because he didn't "mean to." But the poet declares that "Images arise spontaneously." It is a lovely exchange. And, at that moment, Mario comprehends that "The whole world is a metaphor for something else."
What Mario comes to learn is that poetry is not solely about the juxtaposition of words. Poetry is a way of life. Neruda has encouraged his "protege" to see the natural delights that surround him, to understand that nature itself -- like love -- is pure poetry. That he who sees the poetry in life is a poet. "Better than any explanation," the poet tells the postman, "is the feeling that poetry can reveal to a nature open enough to understand it."
Mario subtly begins to seduce Beatrice with select poems from the master. But when he unselfconsciously informs Neruda of his method, Neruda gently chides him to write his own poetry. Mario defends his action with the logical retort, "Poetry doesn't belong to those who write it, but to those who need it." In a magnanimous gesture the poet offers Mario a gorgeous leather-bound notebook tooled with an engraving of what looks like the three Graces. Later, at Beatrice's bistro, directly in front of her, Neruda (who has become the town celebrity) conspicuously signs the notebook "To Mario, My good friend and comrade." Now Mario's winning of Beatrice is secured.
In this fairytale Mario's life has been forever changed by his brief but meaningful friendship with a generous poet and the enriching powers of words and language.