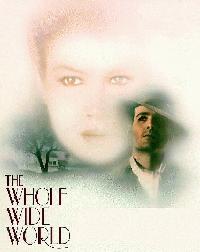 The Whole Wide World (1996)
dir. Dan Ireland
starring: Vincent D'Onogrio, Renee Zellweger
genre: Drama, Romance
awards: BEST PICTURE, BEST ACTOR 1996 Seattle Film Festival; BEST ACTRESS 1996 Mar De Plata Film Festival; BEST CINEMATOGRAPHY 1996 Fort Lauderdale Film Festival
He is a pulp fiction writer. She says she is "working" on a novel titled I Gave My Daughter Movie Fame.
He reads (and publishes in) Weird Tales. She reads Smart Set, Cosmopolitan, The Saturday Evening Post.
He is a mama's boy, at once selfless in his care of his invalid mother and neurotically dependent. In her early twenties she has already left home to teach high school in a neighboring town.
He has a reputation for being eccentric, morose, unpredictable, a misfit. She is conventional, socially attuned, proper, a bit of a snob.
He writes. She wants to be a writer.
They are an unlikely pair, but they find interest, intrigue, intelligence and humor in each other and develop a turbulent emotional friendship.
He is Robert E. Howard, the creator of Conan the Barbarian and Red Sonia, who died tragically by his own hand at the age of thirty in 1935. She is Novalyne Price, who, in 1985, at the age of seventy-six, wrote her first book, the memoir One Who Walked Alone -- an account of her complicated relationship with Robert -- from which this deeply moving film, The Whole Wide World, was adapted.
Although little known, The Whole Wide World, which takes place in West Texas during the mid-1930's, and stars Vincent D'Onofrio and Renee Zellweger (it was released in late 1996, after her breakthrough role in Jerry Maguire), is a visceral, incisive examination of the loneliness and the obsessive nature of the writing life.
Robert's mental energy is dazzling to Novalyne and his enthusiasm for his work exemplary. The first time she visits him at his home she is stunned to hear him bellow aloud the words to the storyline as he obsessively types them on paper. He is a man possessed -- conjuring lurid yarns and erotic adventures; oblivious of anyone or anything other than his characters who offer him an escape from a world in which he doesn't fit. The adrenaline rush in this creative moment is palpable. Later, when Novalyne questions Robert about his process: "Do you always tell the story as you're writing it?" He responds, "It's a helluva noise, ain't it? I find if I talk them out, hear the words, the yarn goes a little bit smoother." His voice brings the words to life.
In a beautiful scene, Novalyne and Robert are leaning against Robert's Ford roadster convertible in a spent cornfield under a harvest moon, and she asks him to tell her about his work. She wants to know about Conan. He is clearly pleased at her interest and says that he writes about giant snakes, muscle men, big-busted, naked women, and men struggling to survive. Novalyne doesn't quite know how to respond except with laughter and says that she wants to write about ordinary farm people. "You stick with me, girl, and I'll teach you about writin' and men." he teases her. "Excitement's my specialty. Excitement and adventure."
But some months later, when Novalyne takes Robert home to meet her mother and grandmother, there is a tense moment when her mother thanks him for teaching her daughter about writing. He looks accusingly at Novalyne and says, "Well, your ears must be keepin' it secret, Because your hands ain't been typin' it out."
Translation: Writers write.
It is shortly after this that an emotionally frightened Robert lets Novalyne know that he can't be tied down. "The road I walk, I walk alone. When you're young, you feel the lust for adventure buried in your sub-conscious." Novalyne sensibly realizes that Robert's inner conflicts will not allow him to find a sense of peace or even comfort with another human being and the two drift apart. Soon she is accepted into a Masters Program at Louisiana State to complete an advanced teaching degree. Three weeks after she arrives a telegram bears the news of Robert's suicide.
The writing life is lonely and difficult.
On a bus from Louisiana to Robert's funeral, Novalyne tells an inquiring fellow-passenger about the friend she has lost. "He was the greatest pulp writer in the whole wide world," she, proudly, says. "He was a writer and he made his living writing stories."
Fifty years later, the same can finally be said of Novalyne.