"Casino Royale" Gambles on a New Breed of Bond
His name may be "Craig, Daniel Craig," but who is this blond Bond from working-class Liverpool--birthplace of John Lennon and Paul McCartney, the writing half of another British institution? It would seem that Craig is the producers' attempt in "Casino Royale" (number 21 in the official list based on the spy novels of Ian Fleming), to bring Bond back to basics.
When I first read that Craig, a theatrically trained actor, shared the Bond short-list with the equally attractive and accomplished Clive Owen ("Inside Man," "Sin City," "Closer," "Gosford Park"), I didn't know which to root for. I find both men irresistibly intriguing and more than up to the task of personifying 007. Truthfully, my deeper concern was that, whoever won the franchise would be lost forever in the brouhaha of Bondmania. Still, Sean Connery, unarguably the best Bond to date, retained his acting mettle by interspersing James Bond roles with alternate personas such as: William of Baskerville ("The Name of the Rose") Jim Malone ("The Untouchables"), Captain John Conner ("Rising Sun"), and William Forrester ("Finding Forrester"). And anyone who watched Pierce Brosnan, playing an unshaven, margarita-soaked, paranoid hitman ("I facilitate fatalities") in "Matador," stroll nonplussed through a Mexican hotel lobby wearing only a black speedo and lumbering army boots, knows that Brosnan's best work may still lie ahead of him.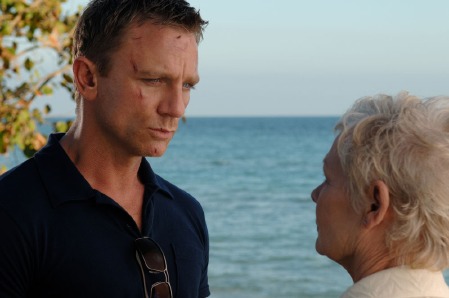 Considering the confirmatory critical reviews and the breaking box-office revenues for the costly (estimated at $150 million) "Casino Royale," it's fair to say that Craig has proven his Bond-ability. Unconventionally handsome ("New Yorker" critic Anthony Lane writes, "God may have designed Craig during a slightly ham-fisted attempt at woodworking. His head is a rough cube, sawed and sanded, with the blue eyes hammered in like nail heads. He could beat a man's brains out with his brow"), Craig may display a brawler's bearing and physique, but his Bond emerges from the sea, like Aphrodite, reborn. It's this precarious chip-on-his-shoulder manner, juxtaposed with the emotionally vulnerable orphan that Vesper Lynd (Eva Green's Bond Woman, no "girl" she) sees, which allows him to shed the invincibility and one-dimensionality of earlier Bond interpretations.
During an interview with Charlie Rose, the 38-year-old Craig acknowledges that he wanted to "approach the character from a different angle," to "have a go at re-creating this character," to show how Bond "becomes the man he becomes."
Craig's Bond is indeed a man, but he's also, by definition, a hero: he ultimately saves humankind from the clutches of evil bankers, he endures torture in naked "Bondage," and he risks his own life to save that of the woman he loves--even after she has betrayed him. But Craig's version of a hero (like all Tragic Greek heroes) contains a character flaw, which renders him not only more vulnerable, but considerably more appealing. The death of his parents, when he was a young boy, leaves the new Bond an orphan, without foundation, rudderless as it were, and emotionally susceptible.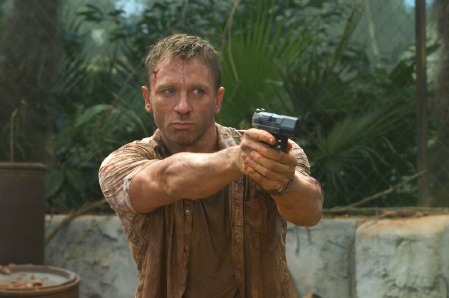 A comic book hero, Batman, suffers from the same fate. Bruce Wayne, in fact, watched as his parents were murdered during a robbery- gone- horribly- wrong, which instilled in him a quasi- hero- cum- vigilante fixation. In last year's "Batman Begins," director Christopher Nolan revived Batman and Gotham City from campy costumes and over-the-top production design. Christian Bale richly portrayed a complex, nuanced superhero, deeply troubled by his past loss.
So what roles led Daniel Craig to Bondland, to his re-creation of a more authentic human-hero? Although you might not have known him by name previous to the release of "Casino Royale," you've surely seen him in at least a few of the 47 titles listed in IMDb. Among the major releases are: "Laura Croft: Tomb Raider" (Angelina Jolie's love interest/nemesis), "Road to Perdition" (the angry son of a gangland boss), "Munich" (one of the group of counter-terrorists). But for Craig's more "serious," must-see films, check out: "Love is the Devil" (the homosexual lover of disturbed London painter Francis Bacon), "Sylvia" (Plath's roguish poet-husband Ted Hughes), "Enduring Love" (the victim of an obsessive admirer), and my favorites: "The Mother" (the lover of his girlfriend's, yes, mother), "Layer Cake" (a drug-dealer trying to leave the business), and "Infamous" (an astonishing performance as Perry Smith, the cold-blooded killer, who bares all to Truman Capote).
On second thought, given the wealth of characters Craig has portrayed, I imagine there will be a life after--even during--Bond. In fact, he's already slated for "I, Lucifer." Who will he play? Well, Lucifer, of course, the most tragic hero of them all.
Home | About: Site Philosophy | About: Cathleen | About: The Book | Reviews: Current | Reviews: Archive
Purchase the book! | Festival Dispatches | The Movie Lovers' Club | Links | Contact

All text on this website copyright © 2006 Cathleen Rountree. All images and graphics copyright their respective owners, unless otherwise noted. Design by Jay Wertzler.