Sundance Film Festival 2007 Preview
January 18-28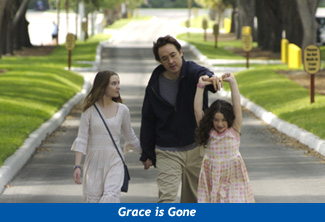 It's that time of year again, when the snow-packed slopes surrounding Park City, Utah, await eager snowboarders and skiers. But, for ten days during the Sundance Film Festival, it's the 30,000 filmmakers, movie lovers, and industry insiders who invade this normally laidback resort town of 7,880 full-time residents. Jitneys shuttle audiences between theatres with names like Prospector, Yarrow, and Egyptian--names that harken back to the mining camp of 1870, where lead, gold, and silver were discovered. Sundance, started by Robert Redford in 1981, is now the largest independent film festival in the U.S., and has introduced American audiences to some of the most innovative films of the past two decades. Remember: "Hoop Dreams," "Crumb," "Run, Lola, Run," "American Splendor"? All premiered at Sundance.
In addition to over 70 shorts, this year's festival lineup of 122 American and international feature films in dramatic and documentary competition were selected from 3,287 feature submissions--a number that increases each year--and stretches across a vastly expanded range of subject matter and narrative styles and represents 25 countries. According to John Cooper, Director of Programming at Sundance, "The films embrace complex stories and are exploring topics that transcend the confines of personal, geographic, and artistic borders." In this year's program, he says, "filmmakers are exploring different narrative techniques and devices, pushing the cinematic form to new limits, and embracing a global perspective in filmmaking."
Among a plethora of themes, this year's films look at environmental issues, the war in Iraq, immigration, sex, and disabilities.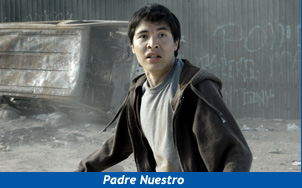 "Everything's Cool," a documentary that may be the 2007 version of "An Inconvenient Truth," introduces a fervent group of messengers warning about global warming.
In "Ghosts of Abu Ghraib" Rory Kennedy (daughter of Robert) draws on the accounts of perpetrators, victims and witnesses of the notorious prison-abuse scandal. "No End in Sight" includes interviews with government officials about the decisions leading to the "new quagmire." And in the drama "Grace Is Gone" John Cusack portrays a supporter of the war who learns that his military wife has been killed in Iraq and takes his daughters on a road trip to break the news.
Immigration is as popular a Sundance subject as ever, with films looking at Kurds, Moroccans and Romanians in Europe; a Nigerian in Burkina Faso; and a Chinese in Britain. "Padre Nuestro" weaves a suspenseful tale of stolen identity among Mexicans in New York City.
And sex, always a popular topic, is represented in "Teeth," about a high school student, the object of male violence, who discovers that she has a quite literal case of vagina dentata. Several men learn this the hard way, in what might be called a feminist horror film. And the documentary "Zoo" takes a "humanizing look" at the life and bizarre death of a man in Washington, who died after having sex with a horse. Uh, well, I may skip that one.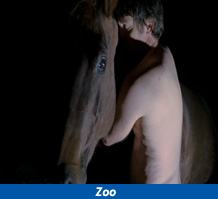 Several films explore disabilities or disorders. In the documentary "Hear and Now," Irene Brodsky tells the story of her deaf parents, who after 65 years of silence decide to have cochlear implant surgery; and in "Rocket Science" a 15-year-old boy with a stutter falls in love with the star of the debate team and joins up to impress her.
In "The Night Buffalo," written by Guillermo ("Babel") Arriaga, a young schizophrenic kills himself after his girlfriend cheats on him with his best friend, but first schemes to drive the two lovers mad.
On the brighter side, the Festival also presents a compelling collection of conversations, debates, and panel discussions that explore the complex world of independent film and its place in the broader spectrum of contemporary arts, including the Role of Activism in Art.
For Festival info: www.sundance.org or (435)776-7878
Home | About: Site Philosophy | About: Cathleen | About: The Book | Reviews: Current | Reviews: Archive
Purchase the book! | Festival Dispatches | The Movie Lovers' Club | Links | Contact

All text on this website copyright © 2006 Cathleen Rountree. All images and graphics copyright their respective owners, unless otherwise noted. Design by Jay Wertzler.