The 10th Annual Arab Film Festival
...presents realistic perspectives on Arab people, culture, art, history, politics, and the human experience at this complex moment in history.
Sept. 8-17, 2006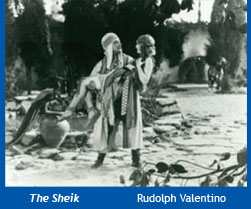 In 1921, The Sheik introduced the silent screen Latin Lover, Rudolph Valentino as Ahmed, the Sheik of Araby, who, like a "savage sandstorm," sweeps into the tent of a defiant English girl and attempts to seduce her.
Even before the Production Code of 1930, however, reel Western women did not engage in hanky-panky with Arabs. But wait! Because the burnoosed Ahmed is not really an Arab, but an English Viscount, love and marriage are possible after all. In the 1930 film Morocco, Gary Cooper, who plays a French Legionnaire, opposite Marlene Dietrich's down-on-her-luck nightclub entertainer, refers to Arabs as "walking bed sheets [who] can't shoot straight."
And in 1994, Arnold Schwarzenegger starred as a spy leading a double life in True Lies, an action adventure that institutionalized the stereotype of Arabs as dirty, demonic, and despicable peoples.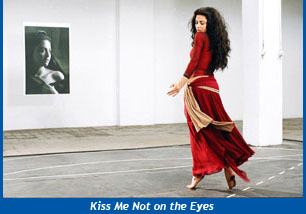 But this month, the remarkable 10th Annual Arab Film Festival, which runs for 9 days in three Bay Area cities: San Francisco, Berkeley, and San Jose, provides a counterpoint of realistic perspectives on Arab people, culture, art, history, politics, and the human experience at this complex moment in history. The Festival's 40 narrative, documentary, and short films emanate from: Lebanon, Syria, Morocco, Tunisia, Algeria, Egypt, Palestine, Qatar, Israel, Yemen, and Iraq.
Two special programs include a Filmmaker Panel Discussion on Sept. 14, at 7:00 PM, in San Francisco at the Alliance Francaise, in a rare opportunity to participate in a discussion with leading filmmakers featured in this year's Festival. Guests include Algerian director Rabah Ameur-Za•mesh, Lebanese director Philippe Aractingi, Egyptian director Samir Nasr, and leading Tunisian actress, Hend Sabri (afsf.com). Also included: Focus on Syria, a program that is part of "Lens on Syria: Thirty Years of Contemporary Syrian Cinema," a touring exhibition that promotes the arts and culture of the Middle East.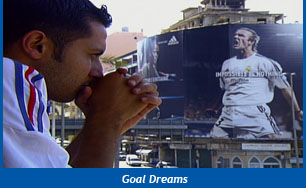 New York Times columnist Maureen Dowd writes, "stereotypes exempt people from any further mental or emotional effort [and] make complicated understandings unnecessary." The Arab Film Festival presents a diversity of unique individuals, who comprise every conceivable human trait. You won't find one-dimensional depictions, but instead, plenty of opportunity for deeper insights, understanding, and empathy.
Festival Finds
Kiss Me Not on the Eyes, a narrative from Lebanon and Egypt. Tradition, culture, expression and passion collide in this sensitive exploration of the changing nature of love and romance in modern Cairo.
Goal Dreams, a Palestinian documentary. Through the universal language of soccer, these Palestinian players learn to forge a common identity, and a nation learns the hope and tragedy that lay within dreams as they prepare for the 2006 world cup.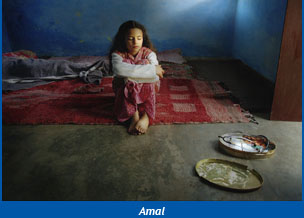 Amal, a short film from Morocco. Amal, a 12-year-old girl who lives in the Moroccan countryside, walks several kilometers each morning with her younger brother to reach her school. A serious and passionate pupil, her dream is to become a doctor.
Sound of the Soul, a documentary, filmed at the Fez Festival of World Sacred Music. The ethereal city of Fez, Morocco, provides a fitting backdrop for a filmmaker's exploration of the musical methods used by cultures to "communicate with and know the essence of God."
Home | About: Site Philosophy | About: Cathleen | About: The Book | Reviews: Current | Reviews: Archive
Purchase the book! | Festival Dispatches | The Movie Lovers' Club | Links | Contact

All text on this website copyright © 2006 Cathleen Rountree. All images and graphics copyright their respective owners, unless otherwise noted. Design by Jay Wertzler.