Cinequest Film Festival 17 Preview
San Jose, Calif.
Feb. 28-March 11, 2007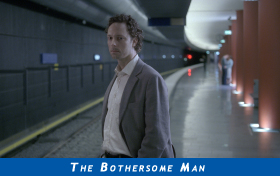 Situated between San Francisco's 24 various film festivals and Los Angeles' nearly 30 film fests, an increasingly culturally vibrant San Jose offers its own annual "Maverick": the Cinequest Film Festival.
Their theme this year is Revolution, and director and co-founder, Halfdan Hussey, invites movie lovers to "experience a cinematic Revolution of discovery and empowerment" through viewing films, attending three Maverick Spirit Awards events, and enjoying multiple Day of series of forums including: Day of the Writer, Day of the Producer, Day of Sight and Sound, and the Day of Distribution. Each forum presents experts in their field to motivate, educate, and fascinate both filmmakers and film fans. The Day of series combines workshops, presentations and behind-the-scenes information that will appeal to anyone interested in the world of film.
Befitting the diverse community of Silicon Valley, the Festival's Global Landscapes program offers a multitude of exhilarating artistic achievements. The over 160 films selected cover a variety of genres of which 40 features and 40 shorts are World and U.S. premieres, and represent 34 countries, especially Latino, Asian, the Balkans, and European cinemas.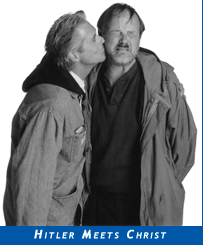 In addition to these films and the Day of series, the Cinequest festival celebrates the Maverick Spirit Award with three one-on-one live conversations. Stewart Copeland, legendary musician of The Police and film composer, receives the Award as on Saturday, March 3. Also on March 3, at the California Theatre, actress Minnie Driver will receive the Award for her career. And on March 2, Cinequest presents Christine Vachon, legendary independent film producer of the films Boys Don't Cry, Happiness, and Far From Heaven.
Certainly deserving of the term "Maverick" is Cinequest's innovative plan of distribution, which was launched in November 2006 and is making its name in the world of film by offering distribution solutions supporting films that get lost after their festival life. The unfortunate reality is that many of the world's truly deserving films do not receive traditional distribution. In fact, some estimate that less than one percent of U.S., and less than five percent of International Indies receiving Hollywood distribution. Cinequest, long a harbinger of the use of new technology to empower artists, has created a distribution solution to deliver films to fans worldwide via unique Internet marketing and delivery, plus a comprehensive DVD list of 35 Maverick titles. They also offer a video-on-demand Internet site and a DVD collection available for pay-per-view video on demand downloading.
In terms of films screening at this year's Festival, the best bets include: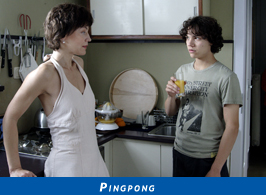 THE BOTHERSOME MAN, (Jens Lien, Norway) a global award-winner for writing and directing, is the original telling of 40 year-old Andreas, who arrives in a strange city with no memory of how he got there. People around him seem cut off from any real emotion, and communicate only in superficialities. Is the ominous environment on earth or elsewhere?
HITLER MEETS CHRIST (Brendan Keown, Canada) observes two men sitting in a seedy train station. One believes he is Hitler. The other believes he is Christ. When the personification of good meets the personification of evil, there are plenty of debates, controversies, and some surprising understandings.
PRAGUE (Ole Christian Madsen, Denmark) stars Mads Mikkelsen (Bond's antagonist in CASINO ROYALE) in this study of a couple whose marriage painfully deteriorate during their trip to Prague. They move from one misadventure to the next—becoming enmeshed in a kind of cultural surrealism in this intense movie about love, loss and loneliness.
In SUPER AMIGOS (Arturo Perez Torres, Mexico) super-activism is alive and well on the streets of Mexico City, where masked men with a cause (using their offbeat disguises to solicit public interest, including: Fray Tormenta, who takes on poverty, and Super Gay, who confronts homophobia) hit the sidewalks to raise awareness.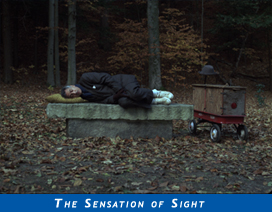 In THE SENSATION OF SIGHT (Aaron J. Wiederspahn, U.S.) David Strathairn portrays a former high school English teacher who now sells encyclopedias door-to-door because of an incident at school that caused him to leave his family and to question the meaning of his life.
In SLUMMING (Michael Glawogger, Austria), Sebastian and his roommate Alex spend their evenings looking for women in lower-class haunts of Vienna until they meet destitute poet and raging alcoholic Kallman who begins to change their MO.
In PINGPONG (Germany, Matthias Luthardt), Paul's family has been shattered by a recent tragedy. To escape the turmoil, Paul, an angst-ridden teenager, disappears into the countryside and pays an unexpected visit to his uncle Stephan, who reluctantly allows Paul to stay. Over the weekend, when Stephan leaves town, Paul is left alone with his uncle's sexy and overbearing wife, Anna, exposing a stark and vivid portrait of the painful secrets that pervade a seemingly typical family.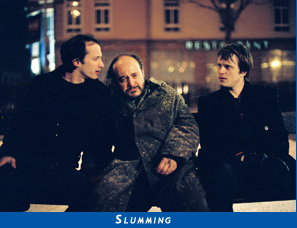 If you like shorts, check out the SHORTS COMPETITION PROGRAM 5: DOCU-NATION which samples the best short docs out today. A film clip of a WW II plane crash sets off a high tech search to identify and locate the surviving pilot. From Bolivia comes a highly enlightening look at a group of indigenous women who provide the village entertainment by wrestling. The highly charged world of freelance video cameramen is examined as they race to get their footage on the air. And a return to Chernobyl 20 years later reveals a landscape still struggling to heal, offering not just an elegy for the victims, but for the whole Soviet system.
Home | About: Site Philosophy | About: Cathleen | About: The Book | Reviews: Current | Reviews: Archive
Purchase the book! | Festival Dispatches | The Movie Lovers' Club | Links | Contact

All text on this website copyright © 2006 Cathleen Rountree. All images and graphics copyright their respective owners, unless otherwise noted. Design by Jay Wertzler.