10th Annual San Francisco International Latino Film Festival
November 3-19, 2006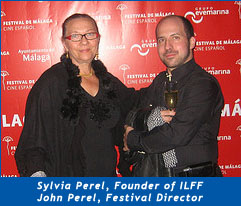 Looking for a Latin version of Sundance, right here in the Bay Area? With more than 90 films during 16 days of nonstop screenings and community activities, the San Francisco International Latino Film Festival fills the bill. Celebrating its 10th anniversary this year, the Festival spreads its outreach to 17 venues in all quadrants of the Bay Area: San Jose, San Rafael, Berkeley/Oakland, and, of course, San Francisco. The Festival offers riveting documentaries and edgy narrative films on War and Politics (Baghdad Rap); Politics and Society (The Wolf and Maquillapolis/City of Factories); Queer Latino Cinema (East Side Story and Odd People Out); The Jewish Experience in Latin America (Jews in Space (or why is this night different than other nights?)) and Like a Fish Out of Water); Family Matters (Gateway of the Gypsies and Pancho Villa: The Revolution Has Not Ended); Cine Nocturno (The Uncertain Guest and The Wolf); and Amor, Sweet Love! (Sea of Dreams and Solo Dios sabe/Only God Knows). Comedies, too, are available: Like a Fish Out of Water, Romeo and Juliete Get Married, Un franco, 14 pesetas, and A Wonderful World. The films represent 18 (primarily Latin) countries from Argentina to Venezuela, but the US is well represented as are a few unexpected countries such as New Zealand, Israel, and Switzerland.
A few of the many excellent films include:
Solo Dios Sabe/Only God Knows is director Carlos Bolado's epic love story using the road trip as a metaphor for spiritual transformation. The radiant, emotionally intense performances by Diego Luna (Y tu mama tambien) and Alice Braga (niece of Sonia) impart a sensuous, heightened journey between Mexico and Brazil that traverses geographical boundaries.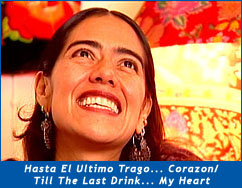 El habitante incierto/The Uncertain Guest is an award-winning thriller well constructed around a brilliant and simple concept: Felix, a young architect who lives in a beautiful mansion of his own design in Barcelona, reluctantly allows a stranger at his door inside to make a telephone call. Soon the visitor seems to have disappeared in the house without a trace. Is the series of eerie incidents only in Felix's paranoia mind?
In El Viejo y Jesus, el viejo (the old man) and Jesus live under a bridge in Caracas. Though they are marginalized, they are definitely not without a critical and lucid opinion of their society. They believe in the revolutionary process of President Hugo Chavez and in a better future. Their wisdom is a tribute to the dignity and revolutionary vision of a people who resist poverty. The film is a documented prophecy of the rebellion that is silently planned below the bridges and sewers of a world that sooner or later will rise for justice.
Hasta el ultimo trago. . . corazon/Till the Last Drink. . .My Heart is a documentary valentine to Mexican music and the women who have contributed to its development with their distinctive voices. Chavela Vargas, Lila Downs, Eugenia Leon, Astrid Hadid, La Negra Graciana and Iraida Noriega express their perspectives on politics, love, and the role of women in the musical world. They use their music to promote cultural change from both a political and feminist perspective and illuminate what is vital in modern Mexican music.
Partying Latino-style: On Friday, Nov. 3 (7 PM) in SF, after the screening of Un franco, 14 pesetas, considered one of the best Spanish films of 2006, the elegant Opening Night Gala at Fort Mason honors 10 years of momentous films, remarkable talent and community events. Enjoy international cuisine and luscious libations "Latino style" and dance to the exotic rhythms of Alberto Montenegro and his salsa band. ($85/$70)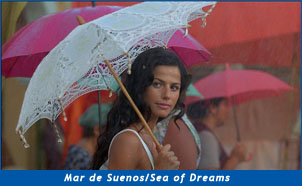 Closing night, Nov. 19 (6:30 PM), at CineArts at Consuelo Mexican Bistro, Santana Row, in San Jose. In Mar de sue–os/Sea of Dreams, after the unfortunate death of her young suitor at sea, beautiful Grecia is targeted as a bad omen to any man who falls in love with her. But will the young visitor Marcelo prove everyone wrong? Using magic realism throughout, director Jose Bojorquez creates a mythical, sensual tale where one of the film's most interesting roles is played by the sea itself. ($30/$20)
For Ticket info, ILFF Schedules and Events visit:
www.latinofilmfestival.org
www.cityboxoffice.com
Home | About: Site Philosophy | About: Cathleen | About: The Book | Reviews: Current | Reviews: Archive
Purchase the book! | Festival Dispatches | The Movie Lovers' Club | Links | Contact

All text on this website copyright © 2006 Cathleen Rountree. All images and graphics copyright their respective owners, unless otherwise noted. Design by Jay Wertzler.