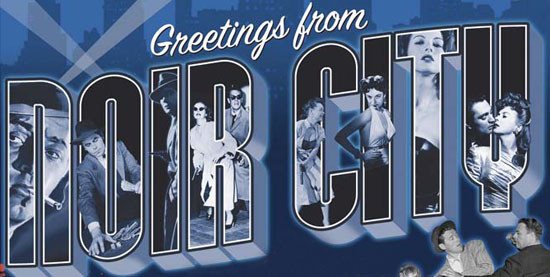 Noir City 5
Castro Theatre
Jan. 26-Feb. 4, 2007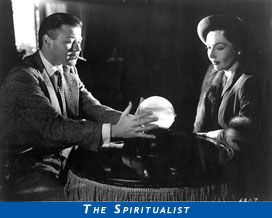 Robert Mitchum, Glenn Ford, Richard Widmark, Dan Duryea, Rita Hayworth, Rhonda Fleming, Joan Crawford--their names alone conjure up both Hollywood films from the 1940s and '50s, and racy gossip from Hedda Hopper and "Photoplay" magazine. But their films' titles say even more. Who is "The Wicked Woman"? Or "The Kid Glove Killer"? Or "The Spiritualist"? Or "The Pushover"? Other titles like "The Threat," "Cry Danger," "Possessed," and "Kiss the Blood Off My Hands" have an air of the horror genre about them.
What is Film Noir anyway? According to Eddie Muller, the Founder of the largest Noir Film Festival in the world, "Film Noir is the flip side of the all-American success story. It's about people who realize that following the program will never get them what they crave. So they cross the line, commit a crime and reap the consequences. Or, they're tales about seemingly innocent people tortured by paranoia and ass-kicked by Fate. Either way, they depict a world that's merciless and unforgiving."
Beginning on January 26th and running for 10 days, San Francisco, the home of Sam Spade and his creator Dashiell Hammett, becomes NOIR CITY. The 5th Annual Film Noir Festival has risen in prominence to become the largest such event in the world. This year the festival returns to the Castro Theatre, where fans will be treated to 20 classic films over 10 days--14 of which are unavailable in any "home entertainment" format: neither video, nor DVD.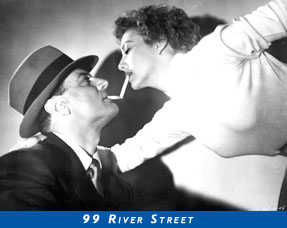 Among these rarities are:
"99 River Street" in which John Payne is a washed-up boxer framed for the murder of his wife. Evelyn Keyes is his sexy girlfriend, who uses her wiles to bust the set-up. Muller calls this "a damn near perfect 1950s crime saga, perhaps the signature film of director Phil Karlson."
"Framed" in which Glenn Ford plays the pugnacious patsy in a "whip-crack tale of infidelity and murder set in Northern California. Janis Carter is one long, tall sexy drink of arsenic."
If you loved "Gilda," don't miss "Affair in Trinidad" which reunites Glenn Ford with Rita Hayworth in the steamy tale of a man hunting down his brother's killer, and falling for the woman who may be responsible.
In "I Love Trouble" Franchot Tone plays a wisecracking private eye sleuthing his way through a bevy of treacherous dames in this playful homage to Raymond Chandler.
If you're a Kim Novak fan, you won't want to miss "Pushover," a dark thriller in which Fred MacMurray risks everything when he falls for a gangster's moll--Novak in her movie debut.
I'm excited to see "The Spiritualist," an entertaining story about a phony psychic preying on a wealthy widow and her impressionable daughter. And if, like me, you're a Joan Crawford fan, you'll delight in a Sunday afternoon with Joan: "The Damned Don't Cry," a thinly-veiled version of the life story of Bugsy Siegel's moll Virginia Hill (a far cry from Warren Beatty and Annette Benning!), is, according to Muller, "perhaps an even truer depiction of the real Joan Crawford than 'Mommie Dearest.' Right up there with 'Mildred Pierce' as one of Crawford's finest melodramas." In "Possessed" Crawford plays a nurse driven mad when the man she loves (Van Heflin) spurns her advances. This tour de force for Joan, stylishly directed by Curtis Bernhardt, earned her an Oscar nomination.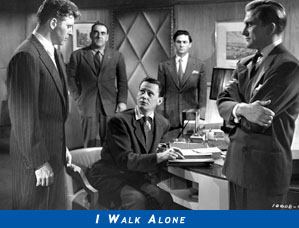 A rare treat is the double-bill of Burt Lancaster films: "I Walk Alone" in which Lancaster plays a Prohibition era rumrunner who leaves prison to find his former partner (Kirk Douglas) now legit, and enjoying the spoils of their criminal enterprise--which includes his dame, the incomparable Lizabeth Scott; and "Kiss the Blood Off My Hands," a British-based noir, in which a Yank (Lancaster) goes on the run after killing a man in a pub. Joan Fontaine is his salvation, Robert Newton his nemesis.
Eddie Muller, who calls himself a Wordslinger and Cultural Archeologist (look for his book "Dark City"), was gracious enough to answer a few questions I put to him about the origins, mysteries, and philosophy of Noir.
CR: What qualities generate great Noir actors and directors?
EM: My favorite noir actors would probably be Robert Mitchum, Robert Ryan, and Dan Duryea. On the distaff side I'm partial to Gloria Grahame, Marie Windsor, and Linda Darnell.

Robert Siodmak is probably my favorite noir director, followed by Billy Wilder and Anthony Mann. To me, a great noir director knows how to cast a spell that's sinister and seductive -- he doesn't have to hit you over the head.

The films are dark to begin with, so the intriguing thing about the actors is how they relate to that darkness -- Mitchum saunters through it, brushing it off; [Robert] Ryan absorbs it and seethes; Duryea seems oddly comfortable playing around in it. Gloria Grahame is unique in that she is daffy and dangerous at the same time. Windsor and Darnell are gorgeous and TOUGH, [this] combination is what the noir woman is all about.
CR: During your extensive research as a cultural archaeologist, I'm wondering if you've found any particular corollaries between noir actors' lives and the roles/characters they played. The obvious example is Bob Mitchum and his arrest for possession of MJ, but any others?
EM: Very much so! You should check out my book, DARK CITY, it's filled with such stories. Lawrence Tierney, Laird Cregar, Charles McGraw, Linda Darnell, Joan Crawford, Gloria Grahame, Paul Kelly -- these actors and many more have lived what I'd consider to be noir lives. Even more than the actors, its the writers, like David Goodis, Raymond Chandler, Jim Thompson and Cornell Woolrich who led noir lives.
CR: Is it fair to say that the cinematic version of the "anti-hero" developed with film noir (which derived from American crime and detective novels, of course) and preceded the '60s and '70s anti-heroes (Nicholson, DeNiro, etc.)? What are the qualities inherent in an anti-hero?
EM: The anti-hero to me is someone whom you can't help but admire even though he doesn't embody any of the traditional "heroic" values of selflessness, steadfast morality, etc. The "noir" hero recognizes the world as inherently corrupt, and so he doesn't go along with the program, sticking to his own code of ethics instead. There are the criminal characters, like the ones played by Sterling Hayden in "The Asphalt Jungle" and "The Killing," that are existential loners; you find yourself rooting for them to pull off their heists because it symbolically represents the triumph of the individual over all the odds stacked against them. In noir, the smart crook is often the least evil character in the story.
CR: It seems to me that if one were to label film noir in philosophical terms, it would have to be existential. Would you agree or disagree and why? What are some examples of such films and their existential themes?
EM: I agree. Noir posits a godless world in which people need to discover for themselves if humans, by their nature, are benevolent or malevolent creatures. The most explicit example I can think of is that Albert Camus based his existentialist masterpiece THE STRANGER on James M. Cain's THE POSTMAN ALWAYS TWICE, which is perhaps the quintessential noir novel.
CR: Aside from their innate entertainment value, what significance does Film Noir hold for contemporary audiences?
EM: In intellectual terms, I think noir represents the finest example of an organic artist movement to come out of Hollywood, and it is ground zero, culturally speaking, for America's loss of innocence. It is what was consuming Hollywood's film artists at a time when post-WWII politics and economics was essentially changing the course of the American agenda for the rest of the century. And the cars, clothes, architecture and language are all so much better than what we see today. These films appeal on multiple levels: intellectually, anthropologically, stylistically--and for their pure storytelling verve.
CR: Is it true that your Festival is the largest FN Festival in the world? Are there others? Where?
EM: Yes. There are regular such festivals in Seattle, Hollywood, Palm Springs, Santa Fe and more are popping up all the time. But the NOIR CITY festival benefits from drawing on the most film savvy audience in the nation. The other festivals don't even come close in terms of overall or average attendance.
Finally, Eddie brought the conversation on Noir back to basics when he reminded me: "It's fun. We can sound kind of high-brow about noir sometimes, but my real goal is just to give people a chance to see these films the way they should be seen: With a big crowd, in a theatre. That's it."
For further information go to www.noircity.com
Did you know...?
Albert Camus based his existentialist masterpiece "The Stranger" on James M. Cain's "The Postman Always Rings Twice," which is perhaps the quintessential noir novel.
Home | About: Site Philosophy | About: Cathleen | About: The Book | Reviews: Current | Reviews: Archive
Purchase the book! | Festival Dispatches | The Movie Lovers' Club | Links | Contact

All text on this website copyright © 2006 Cathleen Rountree. All images and graphics copyright their respective owners, unless otherwise noted. Design by Jay Wertzler.