18th Annual Palm Springs International Film Festival: Exclusive Preview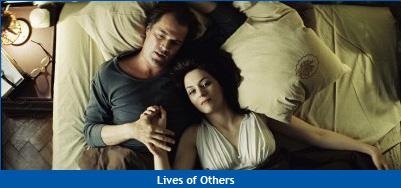 If you love the desert in winter, consider trekking to Palm Springs during January 4-15, when the 18th Annual PS International Film Festival is in full swing. Although relatively young (by comparison, our own San Francisco International Film Festival celebrates its 50th anniversary this April), PSIFF has grown into the largest Festival in California. This year they promise a record-setting roster of 254 films, culled from more than 73 countries. If you care about such things, the selection of films for screening includes a total of 79 premieres. What most excites me, however, is the opportunity to see all16 Documentaries short-listed for this year's Academy Awards, and a chance to choose from 55 of the 61 films submitted for consideration in the Best Foreign Language Film category for the Academy Awards. My favorite two categories of films, they alone could keep one hopping from venue to venue!
By the way, the 16 docs include: "Sisters in Law" (Cameroon/UK), "Storms of Emotions" (Israel), "Blindsight" (UK), "My Country, My Country" (USA/Iraq) and the US films "Can Mr. Smith Get to Washington Anymore?", "An Unreasonable Man," "The Trials of Darryl Hunt," "The Ground Truth: After the Killing Ends," "Jesus Camp," "Deliver Us From Evil," "Shut Up and Sing," "Iraq in Fragments," "Jonestown: The Life and Death of Peoples Temple," and "An Inconvenient Truth." (The last five on the list made it to my Best Docs of 2006 list in the December 29 issue of the "Sentinel Guide.")
The 55 films submitted for consideration in the Best Foreign Language Film category are too numerous to name, but I'm particularly excited to see a few films that I sadly missed at Toronto, especially one of the runaway hits at that Festival, the German film "The Lives of Others," directed by first-timer Florian Henckel von Donnersmarck. In this nail-biting political thriller set just years before the fall of the Berlin Wall, an agent of the East German police finds his ideology turned inside out when he is assigned to incriminate an innocent playwright. This debut feature swept the German and Bavarian Academy Awards. Other eagerly anticipated films include: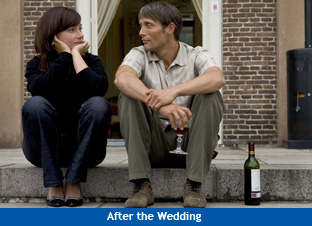 "After the Wedding," directed by Susanne Bier, follows Jacob, (played by Mads Mikkelsen, the arch villain in the recent Bond film "Casino Royale") who runs a struggling orphanage in Bombay. When returns to Denmark to secure new funds, he discovers that his new benefactor has a secret path that will forever alter his charitable present and unknown future.
The Thai film, "Ahimsa: Stop to Run," directed by Leo Kittikorn introduces an over-the-top Buddhist karmic thriller that takes genre bending to the next level. Ahimsa lives a life of clubs, sex, and drugs until a mysterious red haired man in a red tracksuit appears: his karma.
"Before Flying Back to the Earth," directed by Arunas Matelis, is an expressive journey into the lives of children living with leukemia at a pediatric hospital in Vilnius, Lithuania. This poetic, unsentimental, award-winning documentary commemorates the resilience of the human spirit.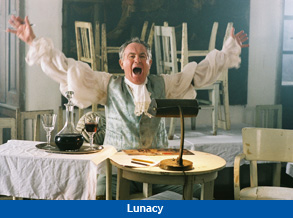 "Lunacy" (on many of this year's "Best List's") is from Jan Svankmajer, the master of Czech surrealism. "Lunacy" introduces a man whose horrifying dreams make his nights unbearable. An offer of assistance from a sadistic nobleman leads the man into an asylum where the doctors are even more dangerous than the patients.
"Rang De Basanti," directed by Rakeysh Omprakash Mehra (which translates to 'paint it yellow'), is about awakening, about standing up for one's beliefs and about today's youth of India. The film inspired ten million people to enlist public opinion and start candle marches across India creating greater awareness on social and political issues.
"Ten Canoes," directed by Rolf de Heer and Peter Djigirr, is set 1,000 years ago in a culture that could be timeless. This detailed recreation of ancient Aboriginal life is a closely observed account of the daily activities and beliefs of the indigenous people of Australia.
"The Yacoubian Building," directed by Maravan Hamed, is purportedly Egypt's most ambitious and audacious movie. It surveys a microcosm of Cairo society by following the colorful occupants of a once dignified apartment building and their interconnected searches for love, pleasure, and honor. It won Best First Feature at the Tribeca Film Festival this year.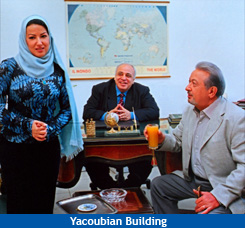 What most impresses me about this year's PSIFF is the recognition of cinemas from geographic regions that have struggled for survival -- Bosnia-Herzegovina, Serbia, Slovenia, Kyrgyzstan, Tajikistan -- proving that the creative spirit is, as ever, life giving and soul saving. From a different sort of battlefront is a film from Kazakhstan, "Nomad" ("The Warrior"), a widescreen historical epic set in 18th-century Kazakhstan with crunching battle scenes. Mansur is rescued from certain death in infancy by the mystic Kazakh warrior Oraz, and destined to unite the country's three warring tribes. (No, it's not a historical version of "Borat.")
Another region that is well represented is Scandinavia. According to Carl Spence, director of programming, "This selection of films showcases the best the world has to offer including the new program Skol! Scandanavia which spotlights 17 of the best films being made in Denmark, Norway, Sweden, Finland and Iceland, as a result of the strong creative and financial support filmmakers receive in the region."
In addition, a striking showcase of 38 new films from Latin America, Spain, and Portugal features guest appearances by the brightest lights in contemporary Latin filmmaking, and screenings of the best films emerging from the Spanish-speaking film world.
The PSIFF will honor Academy Award winner Cate Blanchette (who is currently starring in a trio of hits: "The Good German," "Babel," and "Notes on a Scandal" -- for which it is generally assumed, her considerable acting skills will reap yet another Oscar nod) with the career Achievement Award; and Academy Award nominee Philip Glass, one of the most important contemporary American composers, will receive the Frederick Loewe Award for Film Composing at the Festival's annual Awards Gala. Glass is especially noted for his film scores for the films "The Hours," the "Koyaanisqatsi" trilogy, and, more recently, "Notes on a Scandal." John Boorman ("Deliverance," "The Emerald Forest") will be honored with the Modern Master Award, Guillermo Del Toro ("Pan's Labyrinth," "Hellboy," "The Devil's Backbone") with the International Filmmaker Award, and Jennifer Hudson ("Dream Girls") with the Breakthrough Performance Award.
Home | About: Site Philosophy | About: Cathleen | About: The Book | Reviews: Current | Reviews: Archive
Purchase the book! | Festival Dispatches | The Movie Lovers' Club | Links | Contact

All text on this website copyright © 2006 Cathleen Rountree. All images and graphics copyright their respective owners, unless otherwise noted. Design by Jay Wertzler.