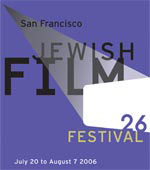 The 26th Annual San Francisco Jewish Film Festival
San Francisco July 20-27
Mountain View July 29-August 3
Berkeley July 29-August 5
San Rafael August 5-7
"What makes a film Jewish?" The San Francisco Jewish Film Festival presents dramatic, documentary, experimental, and animated features and shorts, as well as vigorous panels about Jewish history, culture, and identity. The Festival's line-up promises to fulfill its mission, which is to promote awareness and appreciation of the diversity of the Jewish people, provide a dynamic and inclusive forum for exploration of and dialogue about the Jewish experience, and encourage independent filmmakers working with Jewish themes. The films are rooted in the universality of Jewish themes, while they explore and expand the boundaries of what makes a film Jewish.
The Festival's 51 films from 13 countries offer a kaleidoscopic richness of Jewish identity at this complex moment in human history. The films' themes include: Family and Genealogy, Israelis and Arabs, Interfaith Relationships, Human Rights and Justice, Latin American Culture, Spirituality and Religion, Terrorism, Yiddish Theatre, Politics, Immigration, and the Holocaust and World War II, among many others.
The prolific and political vision of Israeli master filmmaker Amos Gitai will be highlighted. According to Program Director Nancy Fishman, "There is probably no living filmmaker who embodies the phrase Ôthe political is personal' more than Gitai." On Sunday afternoon, July 23, Gitai will personally accept the Festival's Freedom of Expression Award. After the ceremony, Gitai's two newest films: the narrative feature Free Zone-- (starring Natalie Portman, who crosses both political and psychological borders on a road trip from Israel to Jordan) and the documentary News From Home/News From House (which observes the stories of residents in one West Jerusalem stone house as an extraordinary microcosm of the region) will be screened.
In 1984, the Israeli rescue mission, known as Operation Moses, began airlifting thousands of Ethiopian Jews from Sudanese refugee camps to begin new lives in Israel. Live and Become and Sisai, in fiction and documentary forms, reveal the power of tradition that binds Jews of color together and their fight for recognition in Israel and abroad for full "legitimate" status as Jews.
Are you an aspiring filmmaker? The Festival's special program Cinemasports may be for you. In what is considered the "Iron Chef of Filmmaking," teams of energetic local filmmakers--both amateurs and professionals--are given eight hours to make an original three-minute movie and then screen them at the Castro on Sunday evening, July 23. According to Festival officials, participants needn't be Jewish to make a Jewish film--and certainly not to enjoy them.
Festival Finds
Four Weeks in June: Straight from the Berlin Festival, this Swedish drama set in a rundown apartment building, deftly explores a modern intergenerational friendship between a longtime elderly resident and the newly arrived, troubled twenty-something tenant.
Love Iranian-American Style: Tanaz Eshaghian's honest and fearless look at her own love life is a titanic clash of cultures: the unquestioning traditions of a Persian Jewish family upbringing versus the crazy rollercoaster of love and dating that modern American life offers.
Wrestling with Angels: Playwright Tony Kushner follows the Pulitzer Prize winning playwright -- a Jewish homosexual raised in the heart of the Deep South -- who has become a compassionate voice for outsiders in a climate of repression and censorship, from 9/11 to the 2004 presidential election.
Forgiving Dr. Mengele: This compelling documentary is the story of Eva and her ten-year-old twin sister Miriam who suffered gruesome experiments at the hands of Auschwitz's sadistic Nazi geneticist Dr. Josef Mengele. But her forgivness of the "monster" has outraged many of her fellow Mengele twins and alienated her from some of the community of Holocaust survivors and scholars.
Home | About: Site Philosophy | About: Cathleen | About: The Book | Reviews: Current | Reviews: Archive
Purchase the book! | Festival Dispatches | The Movie Lovers' Club | Links | Contact

All text on this website copyright © 2006 Cathleen Rountree. All images and graphics copyright their respective owners, unless otherwise noted. Design by Jay Wertzler.