27th San Francisco Jewish Film Festival
July 19-August 6, 2007
San Francisco, Palo Alto, Berkeley
What do you get when you cross female Jewish comediennes with male Jewish boxers?
One hell of a punch line!
Beginning this week, the 27th San Francisco Jewish Film Festival (the first and still the largest of its kind) offers both. The SFJFF celebrates the best in passionate storytelling, moving images, and courageous spirit of independent Jewish cinema worldwide, with 54 films from 13 countries, shown in 5 Bay Area venues over 99 screenings.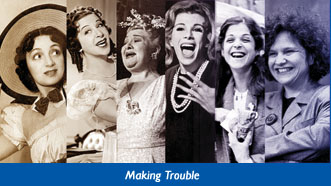 The Festival programmers continue to search the globe for the best and brightest cinematic gems -- offering a full complement of films, festivities and special discussion programs and international guests -- that highlight 5767 years of culture.
"Independent Jewish cinema is an expanding, vibrant and surprising field," says the Festivals Executive Director, Peter L. Stein. "You'll find Jewish satire from Germany, a celebration of New York's hot young Jewish music scene, Israeli filmmakers grappling with the Lebanon War, even an Orthodox Jewish prizefighter. It's a thrilling moment to present our festival."
Rachel Talbot's "Making Trouble" is a laugh-out-loud, impeccably researched documentary that explores six legendary American Jewish women comics: Molly Picon, Fanny Brice, Sophie Tucker, Joan Rivers, Wendy Wasserstein and Gilda Radner. As a special treat, the Castro screening includes a live performance and appearance from Emmy Award-winning comic and author Judy Gold.
The other half of that aforementioned punchline, Jewish Boxers, includes a special program, "Jewish Boxers: Shtarkers and the Sweet Science." Boxing writer and historian, Mike Silver, explains, "From 1901 to 1939 there were 27 Jewish world-champion boxers. Jewish fighters rank among the greatest fighters of all time. In fact, more Jews have participated in boxing than in any other professional sport. The West Coast premiere of Jason Hutt's documentary "Orthodox Stance" focuses on Dmitriy Salita, an up-and-coming welterweight and link to a time when Jewish boxers were kings of the ring." (A panel discussion on Jewish boxers and boxing films, with Silver and special guests, follows).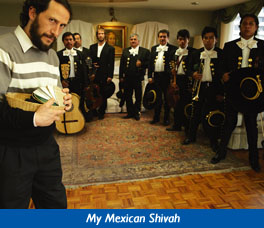 With a nod to this glorious past, the Fest also presents revival screenings of two classics: Robert Rossen's quintessential pugilist drama "Body and Soul," starring John Garfield, and Edgar G. Ulmer's "My Son, the Hero," a comedy featuring the great Jewish boxer-turned-actor "Slapsie" Maxie Rosenbloom (with Ulmer's daughter, Arianne Ulmer Cipes, in attendance at the Castro screening on July 22).
Other Festival highlights include:
"My Mexican Shivah," a comic dysfunctional family drama (scored by The Klezmatics) about an exuberant patriarch of a Mexico City family, who dies of a heart attack in the middle of a raucous mariachi party. He leaves behind a large and complicated web of secrets and relationships that must be untangled over the course of his seven-day shivah (the prescribed mourning period).
"Bad Faith" is a cross-cultural romantic comedy in which a cosmopolitan Parisian couple (she is Jewish, he is Muslim) seem to fit right in, but troubles start when she announces that she is pregnant.
Also set in Paris, the romantic comedy "Gorgeous" shows a group of beautiful women friends who meet regularly for frank discussions about men, marriage, and children. Call it a Sephardic "Sex and the City."
"Aviva My Love" is the richly detailed story of an Israeli woman's inner life as she struggles to keep her family together -- supporting her unemployed husband by working as a cook in a hotel kitchen while raising her two teenage children, caring for her obstinate, unpredictable mother, counseling her spirited sister through a troubled marriage, and keeping the peace between them all, all the while writing short stories.
For ticket information, please contact the Box Office at (925) 275-9490 or visit the San Francisco Jewish Film Festival online at sfjff.org.
Home | About: Site Philosophy | About: Cathleen | About: The Book | Reviews: Current | Reviews: Archive
Purchase the book! | Festival Dispatches | The Movie Lovers' Club | Links | Contact

All text on this website copyright © 2006 Cathleen Rountree. All images and graphics copyright their respective owners, unless otherwise noted. Design by Jay Wertzler.