You Ain't Heard Nothin' Yet: The 11th Annual San Francisco Silent Film Festival
July 14-16, 2006
Long before the superstardom of George Clooney, Jennifer Aniston, Scarlett Johansson, and Jim Carrey, there was Rudolph Valentino, the silver screen's Great Lover, Mary Pickford, America's Sweetheart, Clara Bow, the "It" girl, and the inimitable Charlie Chaplin. After more than seventy-five years of Talkies, their names still conger up images of nickelodeon theatres, nail-biting melodrama, and rousing slapstick comedy. Until 1927, when audiences first heard Al Jolson's voice in The Jazz Singer, silent films ruled the world of moving pictures, As an aging former silent-screen goddess in Billy Wilder's Sunset Boulevard, that's what Gloria Swanson means when she proclaims: "We didn't need dialogue, we had faces!"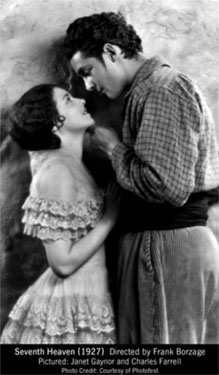 Every year in mid-July, Stephen Salmons, a native Santa Cruzan and the Artistic Director (and co-founder, with Melissa Chittick) of The San Francisco Silent Film Festival, brings those glorious "faces" back to the Castro Theatre, which, appropriately, first opened its doors in 1923.
The Festival encompasses a 3-day event showcasing archival silent films with live musical accompaniment on the Castro's Mighty Wurlitzer. This year's line up includes: Seventh Heaven (1927) starring Janet Gaynor in a transcendental love story, which earned her the very first Academy Award for Best Actress. Presented in a new 35mm print, it is introduced by Gaynor's son. The Unholy Three (1925), directed by Tod Browning, stars Lon Chaney in a bizarre tale involving a sideshow ventriloquist who hatches a scheme to rob the rich. Part pulp thriller, part twisted comedy, it's an entertaining early crime drama. King Vidor's Show People (1928), starring Marion Davies and William Haines, is a lively behind-the-scenes satire of silent-era moviemaking. Sparrows (1926), a dark, suspenseful fable of good vs. evil, stars Mary Pickford as an orphan enslaved on a swamp-ringed farm in the deep South.
The best of European silents are represented by G.W. Pabst's Pandora's Box, in which the sensational Louise Brooks plays a femme fatale in Weimar Berlin. Au Bonheur des dames (1930) is a French realist drama about rampant consumerism that is also a tour-de-force of avant-garde cinematography. And The Girl With the Hatbox (1927), a wildly inventive farce from Russia (labeled as subversive by Soviet censors of the era) is accompanied by live balalaika music.
Silent cinema is an art form and it remains an important cultural and historical record of the first decades of the 20th century, but more than anything, it's fun, and you won't want to miss the Laurel and Hardy two-reelers!
Attending the Festival
July 14-16 in San Francisco at the Castro Theatre, 429 Castro St. (near Market St.). Tickets:
ONLINE May 15-July 13 at silentfilm.org;
BY PHONE June 19-July 13 at 925-866-9530;
IN PERSON June 22-July 13 at the Festival Box Office, 833 Market Street, Suite 812, Hours: Thu-Fri 12pm-5:30pm
DAY OF SHOW July 14-16 at the Castro Theatre; Hours: 9:30am-8:30pm. For further information go to silentfilm.org
Home | About: Site Philosophy | About: Cathleen | About: The Book | Reviews: Current | Reviews: Archive
Purchase the book! | Festival Dispatches | The Movie Lovers' Club | Links | Contact

All text on this website copyright © 2006 Cathleen Rountree. All images and graphics copyright their respective owners, unless otherwise noted. Design by Jay Wertzler.