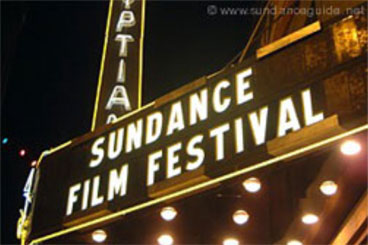 Sundance: Something For Everyone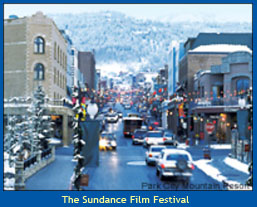 "You're welcome to stay with us," my friend Heather, who lives in Park City, Utah, told me just before Christmas. Her generous invitation induced me to brave (what I'd always heard anyway was) the lunacy of the Sundance Film Festival and the sub-zero weather conditions. Still, this year marked the 25 anniversary of what has become one of the most celebrated and influential festivals in the world. I salvaged my purple down jacket and Swiss mountain boots, and booked a flight through orbitz.com. Now, for the festival tickets.
Since I couldn't afford the $3,000 pass, and all my online film choices were sold out, the only alternative was to spend hours standing in the "Wait List" line for each of the 18 films I saw during my 5-day escapade. Opening night offered a single option: a premiere of Friends with Money, Nicole Holofcener's (Lovely and Amazing) depiction of the West Los Angeles upper-middle-class milieu staring an ensemble cast (Jennifer Aniston, Catherine Keener, Frances McDormand, and Joan Cusack). I felt confident that my relatively low number in line, 46, would assure me entrance to the 1,270-seat Eccles Auditorium (the largest of the Festival's 12 venues).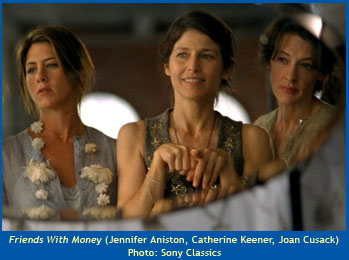 Three hours later, all 300-plus of us--cinephile orphans--were turned away from the sold-out screening. Apparently, the female leads were making appearances, as was Holofcerner, and the real star, Sundance founder himself, Mr. Robert Redford. Well, you gotta get something for three grand, right? The buzz about Friends? "Jennifer Aniston should stick with television."
The Independent Feature Film, free-spirited and aesthetically and ideologically diverse is the heart of the Sundance Film Festival and has, in past years, introduced audiences to many of the best American independent films such as sex, lies, and videotape, In the Bedroom, American Splendor, Napoleon Dynamite, and Born into Brothels. Last year the Festival launched its World Cinema Competition. These offerings (both Fiction and Documentary) reflect the Festival's new commitment to international film and to stimulating creative dialogue among cultures. But the competition is brutal. This year 120 feature films were selected from 3,148 submissions (1,764 U.S. and 1,384 international) representing 29 countries, including South Africa, China, South Korea, Thailand, Israel, Iceland, Brazil, Argentina, Bosnia, and Lebanon.
My personal favorites--all Documentary Features--were activist cinema at its best: Wrestling with Angels, captures the fierce moral responsibility that pervades the work of Tony Kushner, the passionate playwright of Angels in America; An Unreasonable Man is an exhaustive examination of Ralph Nader as both tireless crusader and political spoiler; Who Needs Sleep? investigates how sleep deprivation and overly-long work hours are a lethal combination on movie sets; and What Remains, a stunning portrait of Sally Mann, considered by many America's greatest contemporary photographer, is a very personal inquiry as well as an exploration of an artist's creative process. This deeply moving film was enhanced by the appearance of Mann and her family after the film's viewing.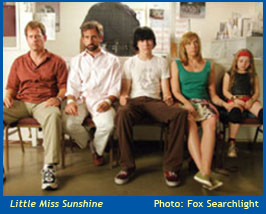 The "buzz" of the Festival centered on the following Dramatic Features: Little Miss Sunshine, about a dysfunctional family on a road trip, stars the inimitable Toni Collette, Greg Kinnear, and Alan Arkin. The question surrounding this film was: Can a picture with a production cost of 8 million dollars still be considered "independent"? The distribution rights were bought for 10.5 million, which added to the hype, er, flurry. When I ran into A.O. Scott, critic at the New York Times one morning, he'd just attended the screening of Wristcutters: A Love Story, an existential comedy about an afterlife filled with suicides. Well, he liked it anyway. Several people enthusiastically recommended Thank You for Smoking, a thought-provoking comedy about media manipulation starring Aaron Eckhart and Maria Bello (fresh from A History of Violence). Quincea–era, about the encroaching gentrification of the Echo Park neighborhood in L.A. and the affect on its inhabitants, won both the Grand Jury and Audience Awards. The documentary, The World According to Sesame Street, focuses on the effects of transforming an American institution into local indigenous songs, puppets, and curricula in some of the world's most difficult arenas: Bangladesh, Kosovo, and South Africa.
Panel discussions and public conversations among filmmakers should be an important part of any film festival and Sundance holds its own on this count. Some of the better panels explored entertainment and social change in Brave New World; delved into the responsibility of mass communication in Where is the Media?; and highlighted the interface between the human psyche and scientific knowledge in What's on Your Mind: The Science and Cinema of the Mind. Two conversations were of particular interest: between Jonathan Demme and Neil Young (discussing Demme's concert film: Neil Young: Heart of Gold), and Wim Wenders and Sam Shepard (discussing their decades-long collaboration and Festival offering Don't Come Knocking). There were also ample technical workshops available, sponsored by Hewlett-Packard, Sony, Intel, Adobe, and Panavision.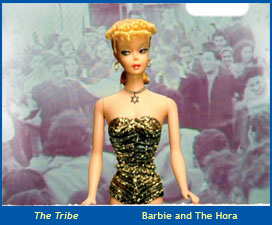 So, which films should we look for in the coming months? In addition to my above favorites, I recommend the following features: Awesome: I Fuckin' Shot That, the product of a 2004 Madison Square Garden concert at which the Beastie Boys handed out 50 cameras to audience members; An Inconvenient Truth, the gripping story of how Al Gore now devotes his life to reversing global warming; Who Killed the Electric Car?, which illustrates that car companies, oil companies, and the government will stop at nothing to maintain their status quo; American Blackout (which won a Special Jury Prize), about how the Black vote was effectively shut out in the 2000 and 2004 elections; The Darwin Awards, a delicious dark comedy that fictionalizes a real-life phenomenon; TV Junkie, a self-imposed Truman Show with a dark twist; Special, about a parking-enforcement officer who acquires superhero powers--with the aid of antidepressants; and, finally, two shorts that simply can't be missed: Ha Ha Ha America, a serious harangue from China to the U.S. that hilariously, if disturbingly, points out our government's arrogance; and The Tribe, a riotously unorthodox convergence of the Jewish people with the Barbie doll.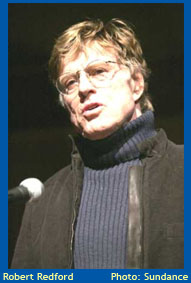 Well, you might ask, was the Sundance experience worth braving endless lines, celebrity hounds, and freezing elements? Actually, the lines aren't so bad (if you stay away from the Premieres), you meet interesting people (like the director of the Venice Film Festival, who offered to host my future visit), and through conversation, time passes quickly and pleasantly as you trade gossip and film finds. On four occasions I benefited from the serendipitous kindness of strangers, who offered me free movie tickets (good-bye Wait List!). Cannes may be more exotic, Toronto larger, Berlin more highbrow, but make no mistake, Sundance is a socio-cultural event every movie lover should experience--more than once. "I'll be back."
(This commentary first appeared in The Santa Cruz Sentinel on 5 Feb. 2006.)
Home | About: Site Philosophy | About: Cathleen | About: The Book | Reviews: Current | Reviews: Archive
Purchase the book! | Festival Dispatches | The Movie Lovers' Club | Links | Contact

All text on this website copyright © 2006 Cathleen Rountree. All images and graphics copyright their respective owners, unless otherwise noted. Design by Jay Wertzler.