The 31st Toronto International Film Festival
Conversations with the World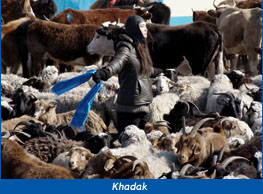 Rushing between Festival venues for screenings and my appointed interviews with international directors, I'd occasionally throw sidelong glances at newspaper stands, whose headlines divulged celebrity activity: "Sean Penn Smokes in Toronto Hotel--Fined $350"; "Borat [Sacha Baron Cohen]'s Wagon Pulled Through Street by Half-Nude Women." Delighted to ditch the tabloid glitz (and crowds) surrounding luminaries like Russell Crowe, Brad Pitt, Kate Winslet, and Penelope Cruz, I gladly embarked on a round-the-globe voyage courtesy of World Cinema and documentaries, those vehicles of unconventional genres and narrative forms that distinguish themselves from an otherwise dominate American commercial cinema.
"Why are ninety per cent of cinemas in the grip of Hollywood?" Iranian director, Mohsen Makhmalbaf asks in one of the Festival's winning documentaries, Iran: A Cinematographic Revolution (Nader Takmil Homayoun), "Do other countries not have thinkers or images, dreams or sorrows?" A rhetorical question answered by such outstanding films as: The Journals of Knud Rasmussen (Zacharias Kunuk, Atanarjuat/The Fast Runner), set in the Arctic tundra of the 1920s and a powerful account of the clash of cultures; Takva--A Man's Fear of God (Ozer Kiziltan's miraculous feature film debut), which offers a glimpse into the world of conservative Turkish Muslims and a crisis of faith that transcends culture; Khadak (Peter Brosens and Jessica Woodworth), which follows a young shaman's spiritual journey in his magic-laden environment of the Mongolian steppes; The Bothersome Man (Jens Lien), a Norwegian parable that examines a society in which a capitalist culture values consumer goods over human relationships; and two German entries: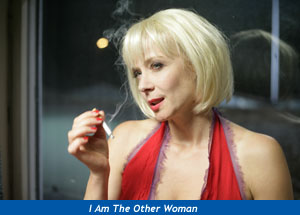 I Am the Other Woman (Margarethe von Trotta), a complex psychological study (with intimations of Vertigo) of a woman with a father-complex and the unsuspecting man who falls in love with her, and Requiem (Hans-Christian Schmid), a harrowing investigation of a contemporary socially and religious conservative family who subject their epileptic daughter to a medieval form of exorcism.
In eight days I viewed 42 of the 361 titles of narrative films, documentaries, and experimental features and shorts highlighted at the Festival. The days and the several dozen films seamlessly rolled into a single concentrated cinematic experience, the consequence of which was a hypnagogic trance-like state. Cinema travels directly from the ocular to the visceral, from the conscious to the unconscious, and back again. This process has the uncanny affect of transposing reality and fantasy: the inside of a movie house becomes the "real" world, and I found myself resenting the necessary interstices between films: sleep, satisfying hunger pangs, and bathroom breaks.
As the first film soon became 5, then 12, then 21, then 34, and, finally, 42, I felt as if I was in the middle of an intricate puzzle. Each new film I saw added to the complexity, the entirety, of a vision of the human condition. I was struck by the conversations taking place between films, characters, directors, eras, countries, political ideologies, and spiritual concerns.
The Jamaican bard Bob Marley sang: "You have to know where you come from, so that you can know where you're going." Taking this truism to heart, the highly charged political director of Z, Costa Graves has written Mon colonel (directed by Laurent Herbiet), one of two festival offerings that revisits the nearly 50-year-old French-Algerian war (depicted so effectively in the seminal 1966 film Battle of Algiers). The recent riots that torched France demonstrate that North African immigrants (in addition to the current impoverished circumstances many of them endure) understandably still harbor hostility and resentment toward the French for their brutal occupation decades ago.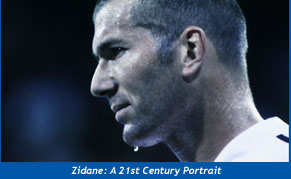 Indigenes (Days of Glory) provides a backstory to this period: In 1943, during the Nazi occupation of France, the French Army conscripted 130,000 North Africans. These "natives" fought bravely and unreservedly for their "Fatherland" in snow-covered terrain in Eastern France and Northern Italy, often wearing only summer garb and sandals. The eventual Allies' victory can be directly attributed to this faction of North African soldiers. However, as in our own Civil War, these men were treated with undisguised prejudice and, worse, contempt. In the early-1960s, after the de-colonization of Africa was complete, the French government decided to freeze the retirement and pension funds due these North African veterans. To this day, they remain unavailable. The film's director, Rachid Bouchard told me during our interview that he had shown the film to French President Jacques Chirac and his cabinet only the week before. He made this film, he explained, "so young people know about their cultural history and others can remember."
The following day I viewed the documentary Zidane: A 21st Century Portrait (Douglas Gordon and Philippe Parreno), about one of the most revered and complicated world-class athletes. Zinedine Zidane (of Algerian heritage) came under scrutiny during the semi-finals of the 2006 World Cup when he butted the chest of an Italian player (who presumably provoked Zidane with an ethnic slur). Given the backdrop of Indigenes and Mon colonel, the past clearly persists in the present.
Among the ten documentaries I saw, my two favorites included: The Pervert's Guide to Cinema by Sophie Fiennes (sister to Ralph and Joseph), which consists of film clips, tongue-in-cheek, meticulously recreated settings of famous films (Melanie on Bodega Bay from Hitchcock's The Birds; a cadaverous Mrs. Bates in the basement of Hitchcock's Psycho; Frank on the couch in David Lynch's unquestionably "perverted" Blue Velvet). Fiennes's "guide" is the world-renowned philosopher and psychoanalyst Slavoj Zizek, who clearly relishes his role by tossing off such intelligent Freudianisms as: "Cinema is the ultimate pervert art. It doesn't give you what you desire. It tells you how to desire." As Thom Powers notes in his catalogue review, "This doc will make you proud to call yourself a pervert."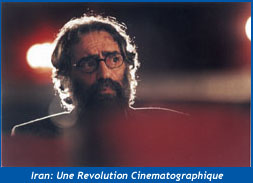 My other favorite was Iran: A Cinematographic Revolution directed by Nader Takmil Homayoun. Persian culture and the current focus on Iranian politics makes Iran a must-see for anyone interested in geo-politics and/or World Cinema. The film, consisting of film clips, significant archival footage, and interviews with Iranian directors and film historians, traces the evolution of Iranian film and its relation to the country's political and social milieu. From the earliest feature films we see the filmmakers' struggle between artistic freedom and censorship. Iran provides clarity about the reasons for the 1979 revolution and overthrow of the centuries-old monarchy. The footage of a burning Rex movie theatre in Abadan in 1978 (during the turbulent pre-revolutionary period), which was set afire, has heartbreaking significance. Four hundred people died after its doors were locked from the outside. Ironically, the subsequent Islamic regime, while demanding strict censorial regulation, also provided economic incentives for the local film industry. According to director Mohsen Makmalbaf, it was this government funding, along with "the prohibition of American movies, that allowed Iranian filmmakers to develop their own unique cinematic language."
Each of these gargantuan undertakings could be a film festival on it's own.
Home | About: Site Philosophy | About: Cathleen | About: The Book | Reviews: Current | Reviews: Archive
Purchase the book! | Festival Dispatches | The Movie Lovers' Club | Links | Contact

All text on this website copyright © 2006 Cathleen Rountree. All images and graphics copyright their respective owners, unless otherwise noted. Design by Jay Wertzler.