2006 Toronto International Film Festival
September 7 - 16, 2006
Wednesday, September 6
Toronto Preview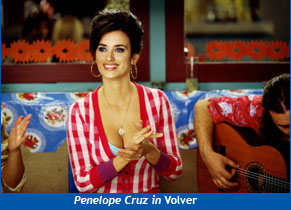 As the Toronto International Film Festival marks its 30th anniversary, insider film critics, festival programmers, and movie lovers are abuzz with those "can't-miss" titles, culled from a massive 361 offerings of narrative films, documentaries, and experimental features and shorts. Direct from Telluride, the annual Labor Day festival gem in Colorado, to its north-eastern sister, Toronto, come (two Cannes favorites) "Volver" by Pedro Almodovar, instep with his 2002 emotionally affecting masterpiece "Talk to Her," and "Babel," by the Mexican director Alejandro Gonzalez Inarritu, who previously directed "Amores perros" and "21 Grams." Also on hand will be, "The Last King of Scotland," starring Forest Whitaker, in what promises to be a role of a lifetime--as Idi Amin, the monstrous dictator of Uganda from 1971 to 1979, and the apparently compulsively watchable "Infamous," yet another take on the turbulent life of the diminutive writer, Truman Capote.
The Festival Galas include the latest offering from the irrepressible Christopher Guest ("This is Spinal Tap," "Best in Show"), the film-within-a-film "For Your Consideration" about, what else, Academy Award hopefuls; the eagerly-awaited remake of "All the King's Men," starring Sean Penn, Jude Law, James Gandolfini, and Anthony Hopkins; Ridley Scott's "A Good Year," a comedy, a la "A Year in Provence," starring an against type, Russell Crowe; "Breaking and Entering," a drama directed by Anthony ("The English Patient," "The Talented Mr. Ripley") Mingella about an "achingly beautiful" love story, starring, again, Jude Law and Juliette Binoche as the principle characters, along with Robin Wright Penn; and Barbara Kopple's "ecstatic" music documentary about the Dixie Chicks's artistry and political outspokenness, which cost them dearly at the marketplace.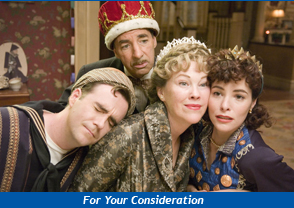 What's a film festival without stars (or "talent" as the "industry" refers to them) and special guests? There will be plenty on hand: the above-mentioned Crowe, Inarritu, Guest, Hopkins, Law, Almodovar, Penn, Whitaker; in addition to: Tom Hanks, Sharon Stone, Michael Moore, Heath Ledger, Christina Ricci, Christian Bale, Joan Allen, Maggie Gyllenhaal, and (among many, many others) Yoko Ono (huh?).
Aside from these films, others that are at the top of my personal list include: "Pan's Labyrinth" by Guillermo Del Toro, set against the backdrop of a fascist regime in 1944 rural Spain, Del Toro ("Hellboy," "Blade II") explores the mind of a lonely child with an active imagination; Darren Aronofsky's long-awaited follow-up to "Requiem for a Dream," "The Fountain," a startlingly original story with three time frames: sixteenth-century Spain, contemporary times, and the twenty-sixth century, starring an ubiquitous Hugh Jackman, along with Rachel Weisz and Ellen Burstyn (who was nominated for her role as an older woman in "Requiem" hooked on prescription drugs, who makes a terrifying emotional descent into madness); the nonfiction road movie "Primo Levi's Journey" accompanies director Davide Ferrario, who follows in the footsteps of Holocaust survivor and scholar Primo Levi, retracing Levi's return trip from Auschwitz to Torino; two films which survey the art, practice and culture of cinema itself are: Sophie Fiennes' "The Pervert's Guide to Cinema," which indulges cinephiles with a filmic feast of sublime clips from Chaplin to "Blue Velvet," Hitchcock to "The Matrix," guided by philosopher and psychoanalyst Slavoj Žižek, the film explores the hidden meanings behind some of the greatest movies ever made; and Nader Takmil Homayoun's "Iran: Une Revolution Cinematographique," which traces the modern day history of Iran through its powerful cinema. In this dazzling work, the audience is treated to interviews with Iranian directors and prominent film personalities, as well as excerpts from highly regarded and influential films made before, during and after the revolution.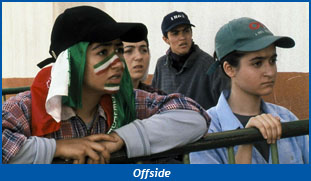 Speaking of Iranian directors, I'm honored to have the opportunity to interview Jafar Panahi, who directed such masterpieces as: "The Mirror," "The Circle," and "Crimson Gold." Panahi accompanies his latest film, "Offside" about an actual match Iran played to qualify for the World Cup. Like his countryman, director Abbas Kiarostami, Panahi is fervently supportive of women and their rights in a Muslim society. Barred from attending sports matches, Panahi looks at a group of soccer-crazy young women, who will do anything to celebrate the passion of their country's team. Hirokazu Kore-eda, the young Japanese director of the elegant and stirring films "After Life" and "Nobody Knows" brings "Hana" to Toronto, the story of a young samarai soldier intent on avenging his father's death. After the rapturous success of "Monsoon Wedding," Mira Nair once again focuses her camera (as she did in "Mississippi Masala") on East Indians living in America. Based on Jhumpa Lahiri's Pulitzer Prize-winning novel, "The Namesake" follows the Gangulis family: Gogol, who is American-born, and his parents, and highlights the cultural frustrations that, although different for each, provide a source of both conflict and unity.
And for all of us Ali G (Sacha Coen) fans, there is Larry Charles' mockumentary, "Borat Cultural Learnings Of America For Make Benefit Glorious Nation Of Kazakhstan," which is guaranteed to be one of the most talked-about films of the Festival. I am so there. . .
Arrived in Toronto on Weds. evening. Press screenings begin tomorrow morning at 8 AM.
Stay tuned. . .
Home | About: Site Philosophy | About: Cathleen | About: The Book | Reviews: Current | Reviews: Archive
Purchase the book! | Festival Dispatches | The Movie Lovers' Club | Links | Contact

All text on this website copyright © 2006 Cathleen Rountree. All images and graphics copyright their respective owners, unless otherwise noted. Design by Jay Wertzler.